Brisbane's first memorial to WWI service personnel was erected in Mowbray Park at East Brisbane after funds were raised by public donation. The foundation stone was laid in November 1916 and the memorial was officially unveiled on 11 August 1917 by Lady Goold-Adams, the wife of the governor. Atop the monument is the figure of an Australian Light Horseman, carved by Alfred Batstone. Here are a couple of photographs of it.
(Photo:Copyright DSEWPaC; rt52656)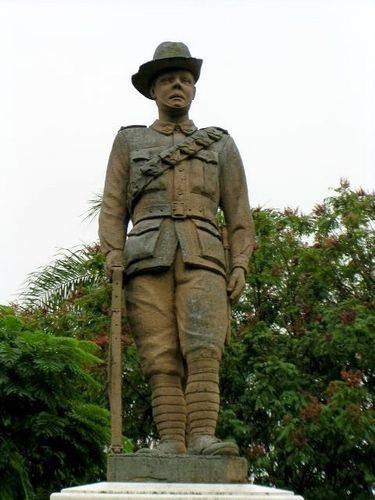 (Photo: monumentaustralia.org.au)
The monument was moved from its original location in the park to allow for the expansion of the nearby bowls club. It is presently situated quite close to Lytton Rd in a beautiful arbor. The statue stands on a pedestal made from Helidon sandstone affixed with marble plaques containing the names of those from the district who did not return from WWI. It is flanked by two artillery pieces that came from Thursday Island where they had been part of Queensland's defences in the nineteenth century.
(Photo: © 2012 the foto fanatic)
The border surrounding the monument has been constructed from stone sourced from the demolition of the Brisbane Normal School in 1929. A neat hedge now encloses the monument.
Lest we forget.
Click here for a Google Map.
tff